4
April 4, 2007
ARANGETRAM – April 2007
Arangetram is a Tamil word literally meaning 'ascending the stage'. It is the first step after completing all items in a complex repertoire. It is also the student's first formal stage debut where the dancer presents a Margam ( all pieces learnt). The performance lasts for two hours to a live orchestra. The dancer now graduates to give solo performances.
Shreyasi had her arangetram in the year 2007, under the able guidance of Guru Padmabhushan Dr. Saroja Vaidyanathan.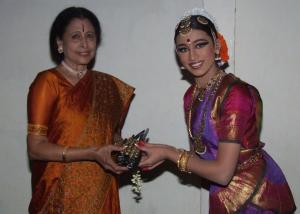 As part of her arangetram Shreyasi presented a Margam, which also included an unusual Kurati (gypsy) piece. Kuratiattam is known for it's energetic movements and lilting songs which spread a social message in a humorous manner.